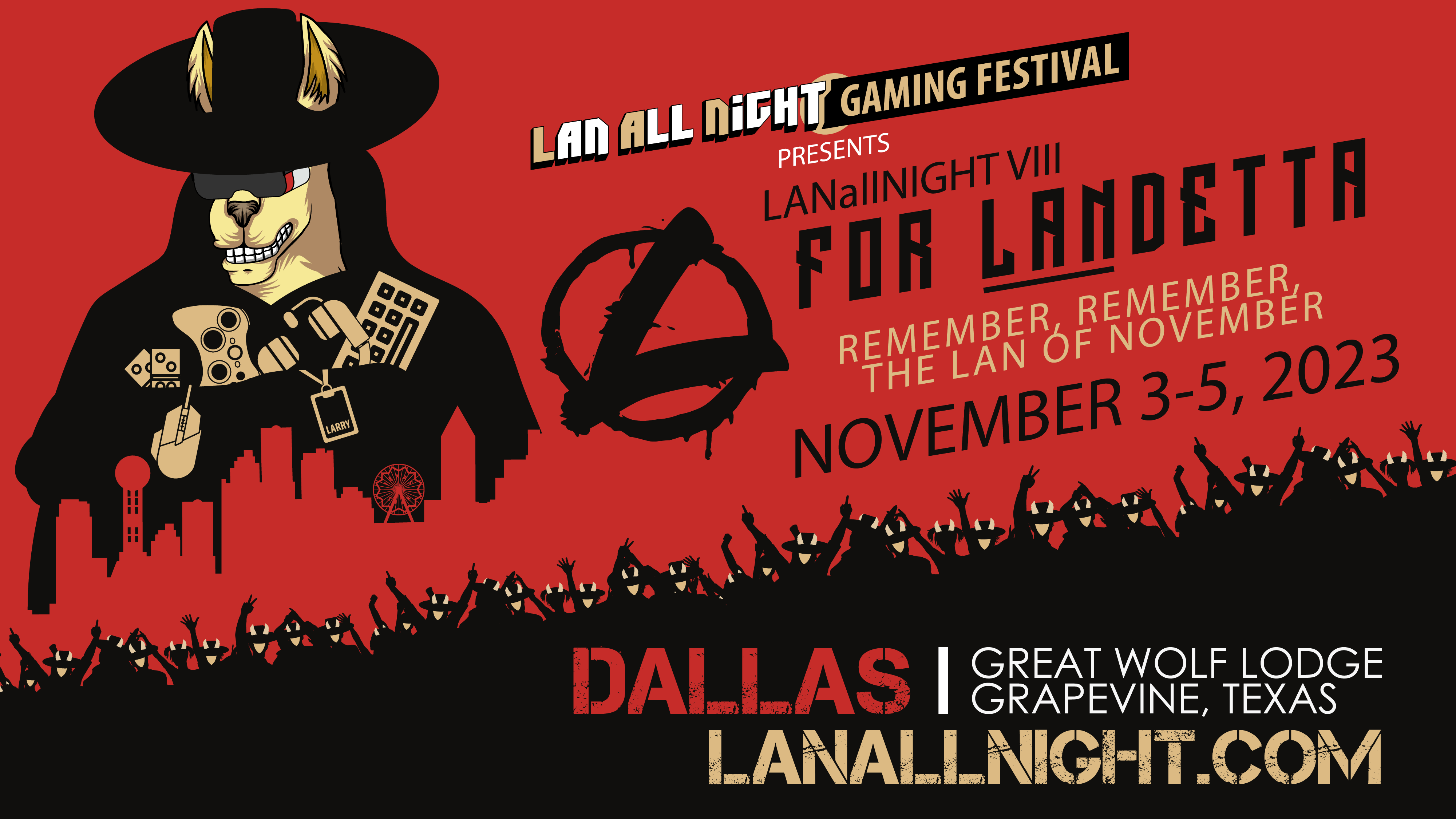 Get ready for the ultimate gaming experience!
LAN All Night is proud to announce our next event, LANallNIGHT VIII: L for LANdetta, taking place from November 3-5, 2023.
This event will feature an array of exciting activities, including freeplay computers, tabletop games, console games, arcade games, virtual reality, vendors, raffles, contests, music, panels, and so much more!
Whether you're a hardcore gamer or just looking for a fun weekend activity, we have something for everyone. With endless opportunities to connect with fellow gamers, try out new games, and win amazing prizes, this is an event you won't want to miss.
So get your tickets now, mark your calendars, and get ready to level up your gaming experience.
BYOC
Reserved Seat in BYOC (3′ Table Space), Access to Entire Event
Merch
Badge (Event-Branded), Lanyard (Basic)
Perks
One Raffle Ticket
BYOC LEGEND
Reserved Seat in BYOC (Entire 6′ Table), Access to Entire Event
Merch
Medal, Badge (Event Branded), Legend Badge (Customized), Lanyard (Event-Branded), VIP T-Shirt, VIP Patch, VIP Pin, Legend Hoodie, Legend Patch, Legend Pin, 8×10 Event Graphic (Signed by Staff)
Perks
Early Entry (Thursday Night), One Extra Raffle Ticket, Custom Walk-Up Music, Bring Your Own Chair, Two Extra Raffle Tickets
Recognition
Special Discord Role/Channel, Listed on Website, Shout Out on Social Media
GENERAL ADMISSION TICKETS
GENERAL ADMISSION
Weekend-Long Access to Entire Event
Merch
Badge (Event-Branded), Lanyard (Basic)
Perks
One Raffle Ticket
FAMILY PASS
Single Day Access to Entire Event
Merch
No Badge, No Lanyard
Perks
No Raffle Ticket
GENERAL ADMISSION
Single Day Access to Entire Event
Merch
No Badge, No Lanyard
Perks
No Raffle Ticket
FREE
WITH ANY MONETARY DONATION*
VIP
Merch
VIP T-shirt, VIP Pin, VIP Patch, VIP Lanyard (Event-Branded), 8×10 Event Graphic
Perks
Early Entry (Thursday Night), One Extra Raffle Ticket, Custom Walk-Up Music, Bring Your Own Chair
Recognition
Special Discord Role/Channel, Listed on Website, Shout Out on Social Media
COMPUTER RENTAL
CLX Gaming PC Peripherals:
Gaming Mouse
Gaming Keyboard
Monitor: 24″ 1080p 144hz
MONITOR RENTAL
ViewSonic® ELITE XG240R** 24″ 1080p 1ms 144Hz
**or equivalent
CASE OF BAWLS
Single Day Access to Entire Event
Merch
No Badge, No Lanyard
Perks
No Raffle Ticket
*LAN All Night is the Dallas chapter of LANFEST, which is a 501(c)(3) non-profit organization. Tax ID: 45-1135701