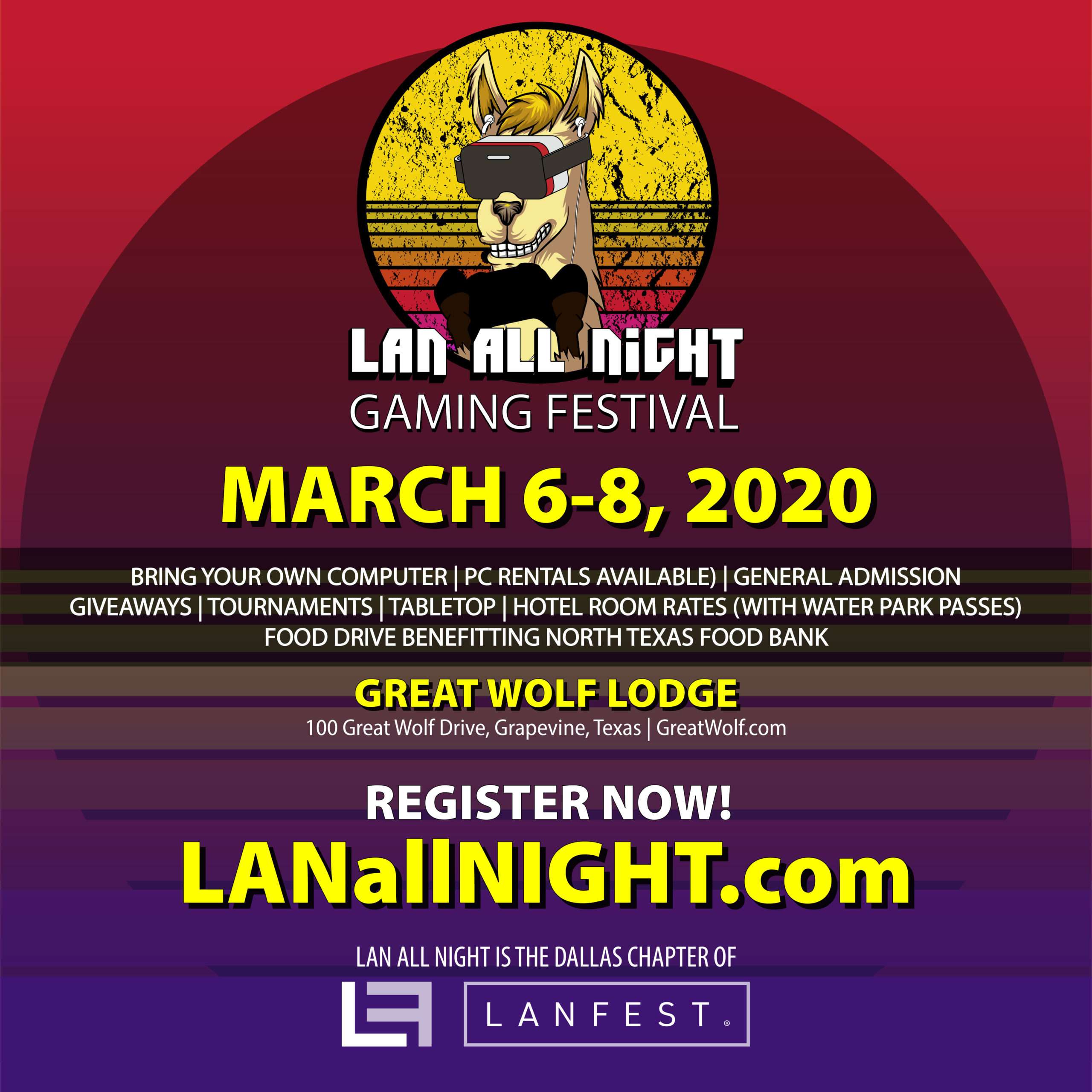 Bring your own computer to the inaugural LAN All NIGHT Gaming Festival for 50+ hours of non-stop gaming, March 6-8, 2020 at The Great Wolf Lodge in Grapevine, Texas. 
There will be games, a tabletop area, merchandise, photo ops, giveaways, tournaments, live streaming and a food drive raffle benefitting North Texas Food Bank.
Bring your family for Spring Break, swim all day and game all night!
Brought to you by some familiar faces in the Dallas LAN scene from QConForums.com and QNewsNetwork.com.
LAN All NIGHT is the official Dallas chapter of the national nonprofit organization, LANFest, who is dedicated to empowering gaming communities and supporting charitable efforts by creating unique gaming experiences.
Official 2020 LAN Tshirt
PreOrder ONLY. There will be no stock at the event. Click to order.
WHEN
March 6-8, 2020 (Friday – Sunday)
WHERE
Hotel room rates are now available to the public. If the Great Wolf Lodge is too expensive for you or the room block fills up, we have a couple great overflow options just down the street. Both of the overflow hotels we list below offer free, 24/7 shuttle service within five miles(which the Great Wolf is definitely within).
The Great Wolf Lodge – 100 Great Wolf Drive, Grapevine, TX 76051
Each individual guest will make their own reservation by visiting our website at www.greatwolf.com  Guest will select "reservations" and insert Group Code 2003LANALL  under "Offer Code" or guest can call the toll-free Central Reservations Department at 1-844-554-WOLF(9653) identifying themselves as part of the LAN All Night.
Parking – FREE!
If the room rate is full, use the overflow hotels.
Overflow Hotels
Read the Frequently Asked Questions
WHAT DO YOU NEED TO BRING?
If you are participating in the BYOC, you will need to bring:
Ethernet cable – If you are sitting in any row, seats 1-8, you will need a 50\' cable. From seats 9-16, bring a 25\' cable.
4-6 Plug Power strip – You and your neighbor will be sharing one of your power strips. Do not plug a power strip into another power strip.
LAN All Night Gaming Festival Waiver – Print and sign to save time. We will have waivers at the event as well.
Sign up for our mailing list to get the latest updates before everyone else!