After QuakeCon 2019, many of the QConForums.com staff members formed a LAN to hold in between QuakeCons and do charitable works for our community.
Little did we know that a pandemic would hit and QuakeCon would go virtual for a couple years.
Since then, we've held six LANs and our 7th is April 28-30, 2023. We hope you can join us.
Our attendees, staff and volunteers are made up of familiar QuakeCon faces, from QConForums.com, QNewsNetwork.com, a2m, Waifus for Lifu, and so many more!
We're keeping the LAN spirit alive and we want you to be part of it!
Hotel Room Rate Code: 2023LANF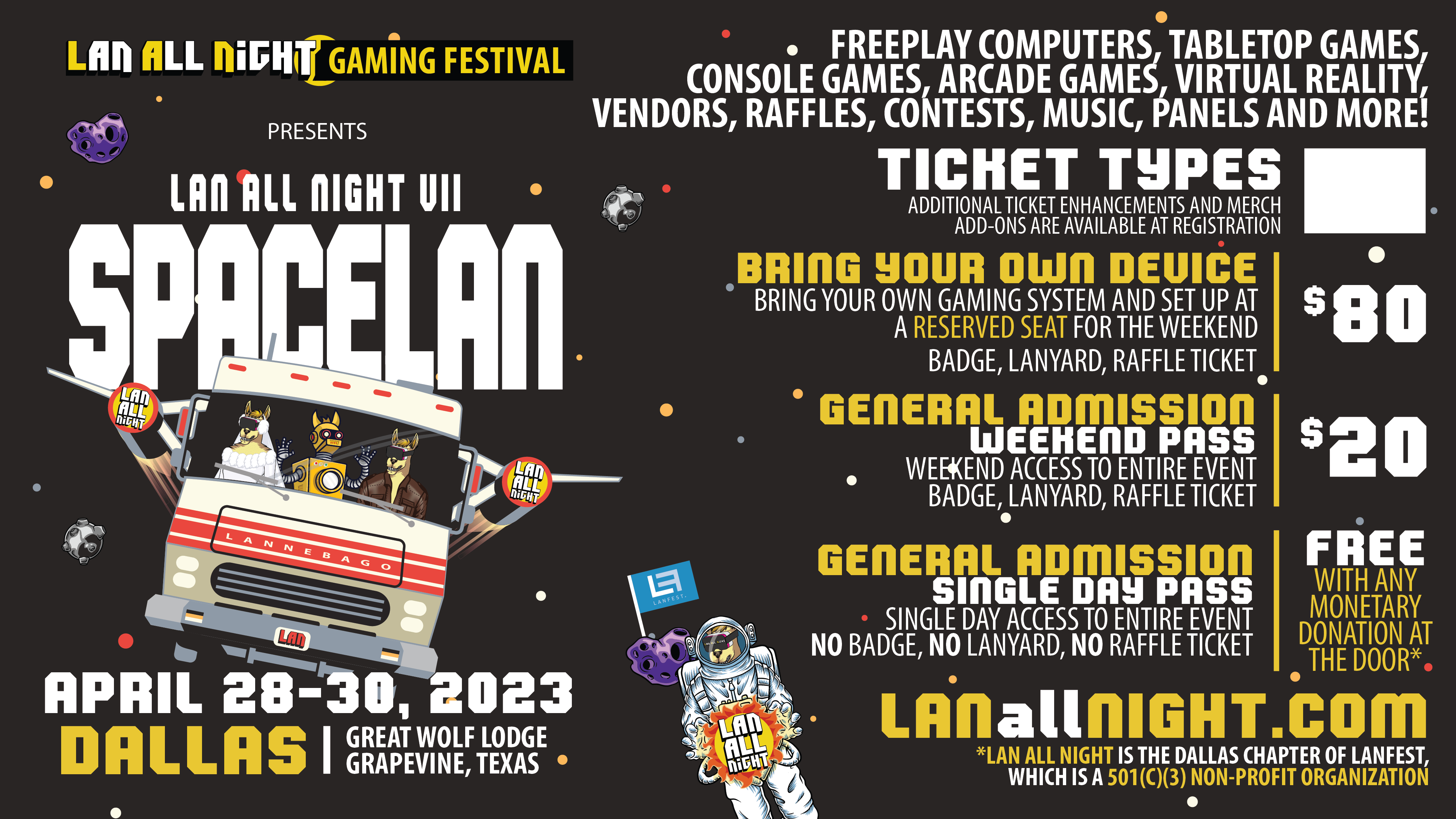 General Admission (Weekend Pass) – $20 – Access to Entire Event, Badge (Event-Branded), Lanyard (Basic), One Raffle Ticket
General Admission (Single Day Pass) – FREE with any monetary donation at the door* – Single day access to the entire event, no badge, no lanyard, no raffle ticket
BYOC – $80 – Reserved Seat in BYOC (3′ Table Space), Access to Entire Event, Badge (Event-Branded), Lanyard (Basic), One Raffle Ticket
BYOC Legend – $250 – Reserved Seat in BYOC (Entire 6′ Table), Access to Entire Event, Badge (Event-Branded), Badge (Customized), Lanyard (Event-Branded), Hoodie, Tshirt, Two Extra Raffle Tickets, 8×10 Event Graphic (Signed), Custom Walk-Up Music, Bring Your Own Chair, Early Entry (Thursday Night), Special Discord Role/Channel, Bring Two Monitors, Listed on Website, Shout Out on Social Media
VIP Upgrade (Add On) – $50 – Tshirt, Patch, Pin, Lanyard (Event-Branded), Early Entry (Thursday Night), One Extra Raffle Ticket, Custom Walk-Up Music, 8×10 Event Graphic (Not Signed), Bring Your Own Chair, Special Discord Role/Channel, Listed on Website, Shout Out on Social Media
*LAN All Night is the Dallas chapter of LANFEST, which is a 501(c)(3) non-profit organization. Tax ID: 45-1135701